Be inspired to live your dream every day, in an outdoor oasis you love. It's easy with IZI.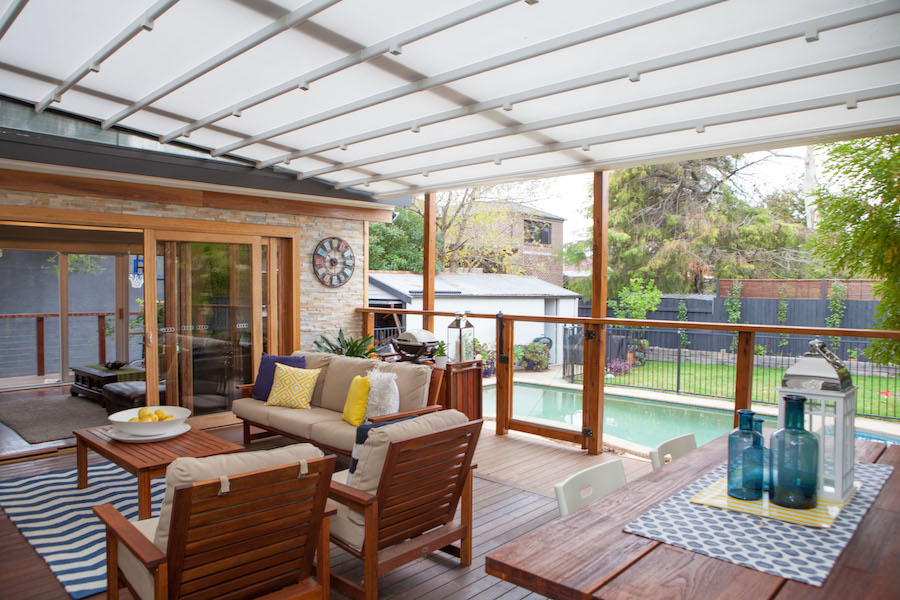 Live the backyard lifestyle everyone dreams about, today. An IZI retractable pergola system is ideal for flexible roofing integration into your existing structures, so you can easily add outstanding value to the area you already have.
Easy to maintain – the 100% waterproof and fire rated fabric is heat and mould resistant, easy to clean and keeps you relaxing for longer
Crafted to last – IZI is finished with exclusive Stormguard soft touch edge seals that are made from natural rubber to provide complete rain and draught protection for your system. High-grade stainless steel fittings will endure Australian conditions.
Optional custom made gutters
Create your mood – with the optional LED-TEC lighting system
Latest technology and jam-free remote control motorisation
IZI is adaptable to a range of options. Ask us about these extras:
We can organise an affordable support structure for the system if you require
Custom made infills for total enclosure
Using vertical blinds to create a cosy outdoor room feel
Adding gas or electric outdoor heating
Or install IZI as a fixed system (not-retractable) as a lower cost option.
IZI easily integrates into existing structures, or can have support poles built in, to transform your pergola or patio into a tranquil haven.