MUSE – Imagine being able to enjoy elegant and sophisticated outdoor living all year round at the touch of a button. Let MUSE inspire you!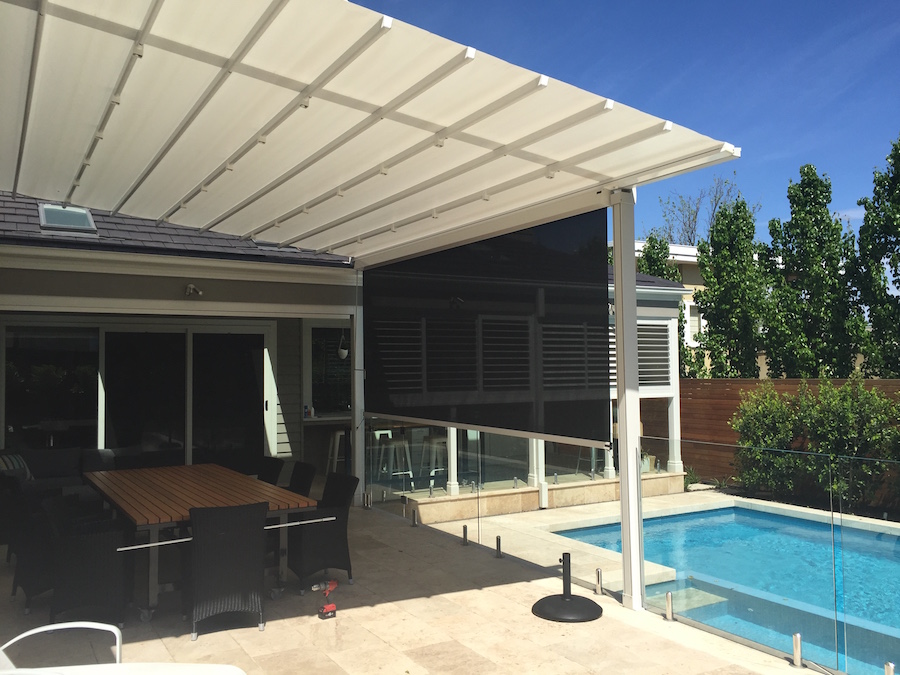 Take charge and indulge your lifestyle in an outdoor space that everyone will appreciate. MUSE retractable pergola systems are a quality and streamlined roof solution for all weather use. The genius of remote-control protection gives you the instant advantage over every climate.
Easy to maintain – the 100% waterproof and fire rated fabric is heat and mould resistant, easy to clean and keeps you relaxing for longer
Crafted to last – MUSE is finished with exclusive Stormguard soft touch edge seals that are made from natural rubber to provide complete rain and draught protection.
Weatherproof – customised gutters divert even heavy rain to ends and protect your roof system. High-grade stainless steel fittings will endure Australian conditions.
Create your look – add timber cladding for a contemporary look
Create your mood – with the optional LED-TEC lighting system
Latest technology in auto-wind sensors and jam-free remote control motorisation
Smart – MUSE is compatible with your building management system
MUSE is adaptable to a range of options. Ask us about these extras:
Custom made infills for total enclosure
Using vertical blinds to create a cosy outdoor room feel
Adding gas or electric outdoor heating
Or install MUSE as a fixed system (not-retractable) as a lower cost option.
MUSE is an adaptable all-rounder that will instantly create a beautiful sanctuary for alfresco living.